Description
ZvPro800 series delivers high quality digital HD video distribution over your existing coax cabling from unencrypted HDMI sources, as well as providing simultaneous IP streaming with no performance compromise. This QAM (or DVB-T), MPEG2, Encoder/Modulator unit allows you to easily distribute content up to 1080p resolution to an unlimited number of displays, using the TV's built-in QAM tuner, eliminating the need for expensive set-top-boxes or media players at each display. Its optional built-in IP streaming functions can deliver video to any media player or another IP receiver. ZvPro units can be managed either locally through the color LCD screen front panel or remotely using the Maestro web-based software. All ZeeVee units support Dolby Digital audio encoding.
ZvPro800 Versions:
– ZvPro810-NA: 1 channel encoder with QAM modulator
– ZvPro820-NA: 2 channel encoder with QAM modulator
– ZvPro810-EU: 1 channel encoder with DVB-T/C modulator
– ZvPro820-EU: 2 channel encoder with DVB-T/C modulator
– ZvPro810i-NA, ZvPro820i-NA, ZvPro810i-EU, ZvPro820i-EU: enable IP output option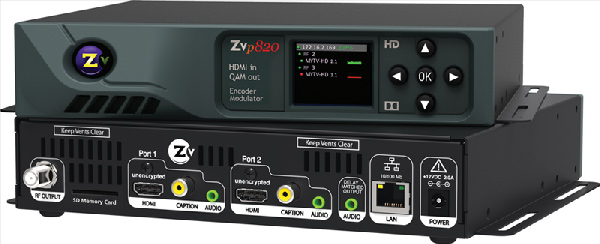 Features:
Superior Video Quality
Simultaneous QAM (or DVB-T)/IP stream output (optional) with no compromise in performance
Supports Dolby Digital AC-3, 5.1 audio
Full MPEG2 support
I, P, and B Frames
Low latency
Support EIA/CEA-608 closed captions
Send HD Video directly to displays and/or the network
ZvPro converts your content to a private television channel that is sent over a regular coax cable – just like your existing satellite or cable box. No need for separate receiver box.
Optional IP Output
With the IP output option easily send your content over your private IP network. The ZvPro800i sends MPEG-TS based output using industry standard UDP multicast/unicast streams.