Description
Features:
Six 12G/6G/3G/HD/SD equalized and reclocked outputs
1×4 ASI distribution capability
Input status LED indicator
Auto-reclock for SMPTE 2082-1, 424M, 292M, 259M, and MADI
Configurable using device DIP switches or BBGConfig USB UI remote control
BBGConfig USB UI offers eye pattern display, showing real-time input signal condition/timing stability/jitter
Small rugged portable standalone package ideal for portable installations. Optional BBG-MB mounting bracket provides rigid, secure mounting to mounting surfaces.
The BBG-DA-12G-1×6 is a 12G/6G/3G/HD/SD-SDI / ASI / MADI multi-rate distribution amplifier that features an input status LED. The unit is fully automatic and supports SMPTE 2082-1 (12G), 424M (3G), 292M and 259M SDI video signals as well as ASI and MADI, and is equipped with one input and six reclocked SDI outputs. (Reclocking only for 12G/6G/3G/HD/SD-SDI and MADI inputs.). The unit supports 1×4 ASI distribution using its non-inverting outputs.
Various settings can be configured using the device DIP switches or by using the intuitive BBGConfig UI application that communicates with BBG-DA-12G-1×6 over a PC's USB port. When configured using the BBGConfig UI app, the USB connection can be removed with all settings held in non-volatile device memory.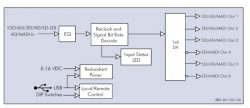 Note: includes PS4 – Universal Power Supply, UL/CSA. Input: 100-240V, 60/50 Hz. Output: 5 VDC @ 12 Watts
Mounting option
BBG-MB   –   Mounting bracket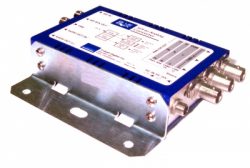 The BBG-MB Mounting Bracket provides rigid, secure mounting of the unit. Heavy-gauge steel construction with a reinforced mounting flange and several mounting holes provides clean, physically secure mounting for even the most demanding mobile applications.
Specifications
Power
<2 Watts; 5-16 VDC (compatible with Power Supply PS4 (North America) or PS5 (International). (See Ordering Information for details.)
12G/6G/3G/HD/SD-SDI / ASI / MADI Inputs
Number of inputs: 1
Impedance: 75Ω
SDI Formats Supported: SMPTE 2082-1, 424M, 292M, 259M
Other Formats Supported: ASI, MADI
Receive Performance; Equalized (Cable Length; Belden 1694A)
12 Gbps: 80m
6 Gbps: 110m
3 Gbps: 160m
1.485 Gbps: 180m
143-360 Mbps: 400m
12G/6G/3G/HD/SD-SDI / ASI / MADI Outputs
Number of DA outputs: 6
Signal Level: 800 mV +/- 10%
DC Offset: 0.0V +/- 0.5V
Jitter 12 Gbps:
Alignment (<100 kHz) Jitter: < 0.3 UI
Timing (<10 Hz) Jitter: < 8 UI
Jitter 6 Gbps:
Alignment (<100 kHz) Jitter: < 0.3 UI
Timing (<10 Hz) Jitter: < 4 UI
Jitter 3 Gbps:
Alignment (<100 kHz) Jitter: < 0.3 UI
Timing (<10 Hz) Jitter: < 2 UI
Jitter 1.5 Gbps:
Alignment (<100 kHz) Jitter: < 0.2 UI
Timing (<10 Hz) Jitter: < 1 UI
Jitter 270 Mbps:
Alignment (<1 kHz) Jitter: < 0.2 UI
Timing (<10 Hz) Jitter: < 0.2 UI
Impedance: 75 Ω
Dimensions (WxHxD)
5.8" x 2.9" x 1.1" (including connector projections)
(147 x 74 x 28 mm)