Description
Tablet-sized field strength meter and spectrum analyzer.
Supporting reception and decoding of broadcast technologies such as DVB-T/T2, DVB-C/C2, DVB-S/S2 with MPEG-2 as well as MPEG-4.
Reception, analysis and decoding of DVB signals, in a small and portable tablet sized package. Upload your data to PC for storage and further analysis.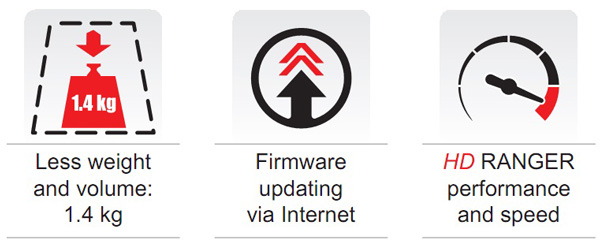 SPECIFICATIONS for HD RANGER UltraLite
Supported DVB Standards

DVB-T, DVB-T2, DVB-T2 lite
DVB-C, DVB-C2
DVB-S, DVB-S2, DVB-S2 multistream
DSS

VIDEO CODECS
AUDIO CODECS
INPUTS AND OUTPUTS

Universal RF connector 75 Ω
Analogue Video/Audio input
USB for data transfer to PC

FUNCTIONS

Merogram and Spectrogram
Constellation diagram
Dynamic echoes analysis
StealthID (instant identification of tuning parameters)
PLS (Physical Layer Scrambling)
Ultra fast spectrum analyser (70 ms sweeping time) with MAX/MIN hold
FM radio measurements and decoding
Screenshots and Datalogger for measurement reports
LTE 1.8 GHz
DVB-S2 multistream
Field strength
Task planner

PC CONNECTION (through USB)

NetUpdate 4 (free software)
Free and automatic firmware updates
User customised channel plans
Measurement reports and screenshots