Description
Features:
Offers conversions from HD/SD-SDI to several component and composite standards: YPbPr, RGB, Y/C, or CVBS analog video (75Ω BNCs)
Passes line 21 closed-captioning for SD-SDI to analog conversions
De-embedding from selectable embedded pair to stereo analog audio outputs
SDI input copy output allows converter to provide SDI pass-thru
Compact size and low weight design easily affixes directly to camera or host device chassis. Optional BBG-MB mounting bracket provides rigid, secure mounting to mounting surfaces.
Powers directly from host equipment USB or standard corded power adapter. USB power and corded adapter can be simultaneously used to provide redundant power sourcing.
Blue Box SDI to analog converter BBG-S-TO-A converter offers SDI to CVBS SD or component conversion, with SD line 21 closed-captioning passed onto the converted stream.
It can be set to provide  SMPTE, Betacam™, MII, or RGB component outputs using an easy to use DIP switch. S-video or 3x DA CVBS output modes are also provided for SD streams.
Group 1 and 2 stereo pairs can be de-embedded from SDI and outputted via an analog audio output line-level pair.
BBG-S-TO-A can power directly via USB to get its power from video monitors or other equipment.


Ordering Info:
BBG-S-TO-A  –  HD/SD-SDI to Analog Component/Composite converter with Audio De-Embedder
Note: includes PS4 – Universal Power Supply, UL/CSA. Input: 100-240V, 60/50 Hz. Output: 5 VDC @ 12 Watts, and Mini-USB Cable for Aux Power.
Mounting option:
BBG-MB   –   Mounting bracket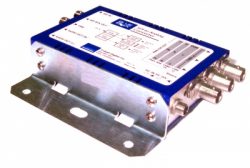 The BBG-MB Mounting Bracket provides rigid, secure mounting of BBG-A-TO-S unit. Heavy-gauge steel construction with a reinforced mounting flange and several mounting holes provides clean, physically secure mounting for even the most demanding mobile applications.
Specifications
Standards Supported
Inputs
SDI (75Ω BNC)
DC power (via USB or adapter)
Outputs
YPbPr, RGB, Y/C, CVBS analog video (75Ω BNCs)
SDI reclocked input copy (75Ω BNC)
(2) analog audio (unbalanced consumer RCA)
Audio Conversion Format
Power Source
Power-sourced directly from host equipment USB port. Converter can also be powered using corded AC adapter (included)
Power
DC Power Connectors
USB Mini and coaxial locking connector (for use with supplied Cobalt power adapter)
Dimensions (WxHxD)
5.5" x 3" x 1" (including connector projections)
(139 x 77 x 26 mm)
Operating Temperature Range
-13°F to 149°F(-25°C to 65°C)